Is the goal of keeping the increase of temperatures below 2°C achievable?
Limiter l'augmentation des températures bien en dessous de 2°C : est-ce un objectif atteignable ?
After a short overview of the IPCC's contribution to the issue of climate change, this article presents the constraints linked to the willingness of the negotiators of the Paris Agreement to limit global warming to less than 2°C and even 1.5°C. Based on the fact that the current warming has already reached the threshold of 1°C, we present the important drivers of this warming and we put the problematic in a paleoclimatic context. The different scenarios for the future are outlined, emphasizing that the difference between scenarios 1.5 and 2°C is important for ecosystems and for humans. If only a small 0.5°C is left before reaching the first threshold, mitigation solutions must be implemented quickly for any purpose. Nevertheless, it is likely that the threshold of 1.5°C will be exceeded in the middle of the 21st century but that it is still possible to return below it before the end of the century, provided that, in parallel to drastic measures of decreasing fossil fuels, solutions of removal of carbon already present in the atmosphere were taken.
Après un rapide tour d'horizon de l'apport du GIEC à la problématique du changement climatique, cet article présente les contraintes liées à la volonté des négociateurs de l'Accord de Paris de limiter le réchauffement planétaire à moins de 2°C et même 1,5°C. Partant du constat que le réchauffement actuel a déjà atteint le seuil de +1°C, on présente les forçages importants de ce réchauffement et on replace la problématique dans un contexte paléoclimatique. Les différents scéna-rios pour le futur sont esquissés en insistant sur le fait que la différence entre les scénarios +1,5 et +2°C est importante pour les écosystèmes et pour les humains. S'il ne reste plus qu'un petit 0,5°C avant d'atteindre le premier seuil, des solutions d'atténuation du réchauffement doivent être mises en place rapidement quel que soit l'objectif. Il reste malgré tout vraisemblable que le seuil de 1,5°C sera dépassé au milieu de 21 ème siècle mais qu'il est encore possible de revenir en dessous à la fin du siècle, à condition d'accompagner les mesures drastiques de diminution des énergies fossiles par des mesures d'absorption du carbone déjà présent dans l'atmosphère
Fichier principal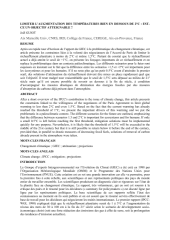 article guiot RJE.pdf (479.6 Ko)
Télécharger le fichier
Origin : Files produced by the author(s)