Was the "naked burst" GRB 050421 really naked?
Context. A few long gamma-ray bursts such as GRB 050421 show no afterglow emission beyond the usual initial steep decay phase. It has been suggested that these events correspond to "naked" bursts that occur in a very low density environment. We reconsider this possibility in the context of various scenarios for the origin of the afterglow.
Aims: In the standard model where the afterglow results from the forward shock as well as in the alternative model where the afterglow comes from the reverse shock, we aim to obtain constraints on the density of the environment, the microphysics parameters, or the Lorentz factor of the ejecta, which are imposed by the absence of a detected afterglow.
Methods: For the two models we compute the afterglow evolution for different values of the external density (uniform or wind medium) and various burst parameters. We then compare our results to the Swift data of GRB 050421, which is the best example of a long burst without afterglow.
Results: In the standard model we show that consistency with the data imposes that the external density does not exceed 10-5 cm-3 or that the microphysics parameters are very small with ɛe ≲ 10-2 and ɛB ≲ 10-4. If the afterglow is caused by the reverse shock, we find that its contribution can be strongly reduced if the central source has mainly emitted fast-moving material (with less than 10-30% of the kinetic energy at Γ < 100) and was located in a dense environment.
Conclusions: The two considered scenarios therefore lead to opposite constraints on the circumburst medium. The high-density environment, favored by the reverse shock model, better corresponds to what is expected if the burst progenitor was a massive star.
Fichier principal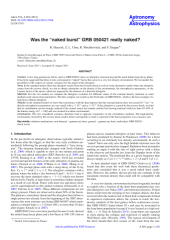 aa17404-11.pdf (246.56 Ko)
Télécharger le fichier
Origin : Publisher files allowed on an open archive