The angular-momentum flux in the solar wind observed during Solar Orbiter's first orbit

Aims: We present the first measurements of the angular-momentum flux in the solar wind recorded by the Solar Orbiter spacecraft. Our aim is to validate these measurements to support future studies of the Sun's angular-momentum loss.
Methods: We combined 60-min averages of the proton bulk moments and the magnetic field measured by the Solar Wind Analyser and the magnetometer onboard Solar Orbiter. We calculated the angular-momentum flux per solid-angle element using data from the first orbit of the mission's cruise phase in 2020. We separated the contributions from protons and from magnetic stresses to the total angular-momentum flux.
Results: The angular-momentum flux varies significantly over time. The particle contribution typically dominates over the magnetic-field contribution during our measurement interval. The total angular-momentum flux shows the largest variation and is typically anti-correlated with the radial solar-wind speed. We identify a compression region, potentially associated with a co-rotating interaction region or a coronal mass ejection, which leads to a significant localised increase in the angular-momentum flux, albeit without a significant increase in the angular momentum per unit mass. We repeated our analysis using the density estimate from the Radio and Plasma Waves instrument. Using this independent method, we find a decrease in the peaks of positive angular-momentum flux, but otherwise, our results remain consistent.
Conclusions: Our results largely agree with previous measurements of the solar wind's angular-momentum flux in terms of amplitude, variability, and dependence on radial solar-wind bulk speed. Our analysis highlights the potential for more detailed future studies of the solar wind's angular momentum and its other large-scale properties with data from Solar Orbiter. We emphasise the need for studying the radial evolution and latitudinal dependence of the angular-momentum flux in combination with data from Parker Solar Probe and other assets at heliocentric distances of 1 au and beyond.
Fichier principal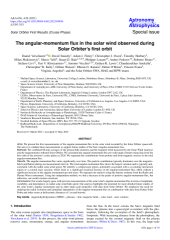 aa40956-21.pdf (712.15 Ko)
Télécharger le fichier
Origin : Publisher files allowed on an open archive