The Close AGN Reference Survey (CARS). Tracing the circumnuclear star formation in the super-Eddington NLS1 Mrk 1044
Context. The host galaxy conditions for rapid supermassive black hole growth are poorly understood. Narrow-line Seyfert 1 (NLS1) galaxies often exhibit high accretion rates and are hypothesized to be prototypes of active galactic nuclei (AGN) at an early stage of their evolution.
Aims: We present adaptive optics (AO) assisted VLT MUSE NFM observations of Mrk 1044, the nearest super-Eddington accreting NLS1. Together with archival MUSE WFM data, we aim to understand the host galaxy processes that drive Mrk 1044's black hole accretion.
Methods: We extracted the faint stellar continuum emission from the AGN-deblended host and performed spatially resolved emission line diagnostics with an unprecedented resolution. Combining both MUSE WFM and NFM-AO observations, we used a kinematic model of a thin rotating disk to trace the stellar and ionized gas motion from 10 kpc galaxy scales down to ∼30 pc around the nucleus.
Results: Mrk 1044's stellar kinematics follow circular rotation, whereas the ionized gas shows tenuous spiral features in the center. We resolve a compact star-forming circumnuclear ellipse (CNE) that has a semi-minor axis of 306 pc. Within this CNE, the gas is metal-rich and its line ratios are entirely consistent with excitation by star formation. With an integrated star formation rate of 0.19 ± 0.05 M⊙ yr−1, the CNE contributes 27% of the galaxy-wide star formation.
Conclusions: We conclude that Mrk 1044's nuclear activity has not yet affected the circumnuclear star formation. Thus, Mrk 1044 is consistent with the idea that NLS1s are young AGN. A simple mass budget consideration suggests that the circumnuclear star formation and AGN phase are connected and the patterns in the ionized gas velocity field are a signature of the ongoing AGN feeding.
Fichier principal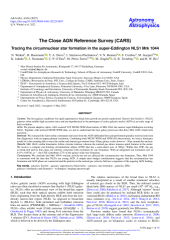 aa43697-22.pdf (31.64 Mo)
Télécharger le fichier
Origin : Publisher files allowed on an open archive